RESCheck or Residential Florida Energy Code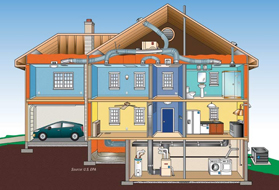 Whole House Calculations:
Property up to 2,500 Sq.Ft.:

$159.00



Property over 2,500 Sq.Ft.:


$159.00 + $0.04c per Additional Sq Ft.
Next Day Rush Service Avaliable for an Additional 30%
Call us to Order Today!
800-810-3280
RESCheck - Plan Review Objectives:
There are three objectives in conducting a building energy code plan review:
A.Verify the documentation has been correctly prepared
B. Verify the levels of efficiency shown on the plans meet or exceed that shown in the documentation
C. Verify all information needed is included in the plans or documentation for the inspector to use on site
Code Compliance Responsibilities: Successful compliance requires the cooperation of many individuals involved in a building project: designers, engineers, architects, builders, building owners, and others. Compliance also requires the efforts of certain individuals to whom the code gives specific responsibilities:
RESCheck or Residential Florida Energy Code
Role of the Applicant: The applicant is the person named on the building permit. The applicant is ultimately responsible for meeting all requirements specific in the code. The applicant may be the owner, architect, engineer, contractor or any other authorized agent for the project owner who applies for the building permit.
Role of the Building Official: The building official is typically responsible for enforcing all provisions of the code. To carry out code enforcement, the building official may appoint technical officers and inspectors.
Role of the Plans Examiner or Special Plans Examiner: Plans examiners or special plans examiners are typically responsible for verifying the plans for energy code compliance. Role of the Inspector or Special Inspector: Inspectors and special Inspectors are responsible for conducting field inspections for energy code compliance.