PTAC & Fan Coil UV Light Systems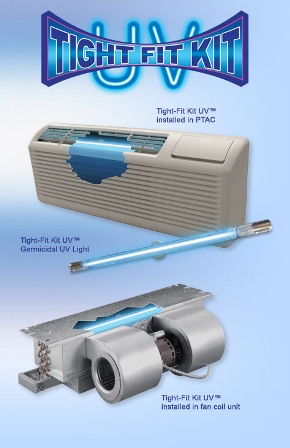 If a Light Won't Fit...
You Need the Kit!
TIGHT-FIT KIT UV™ is an ideal kit for installation into many of the fan coil units and PTACs found on the market today. The kit provides a means for locating the UV light within these units for optimum UV exposure particulary where space is limited.
• Installs in the tightest spaces such as PTACs
and Fan Coil Units
• Weather resistant remote mountable UV lamps with magnetic mounting shield
• 18-32 or 110-277 VAC power supply with flexible
mounting options
• 1 year guaranteed lamp life • Five year power supply Warranty
Click To Read The Official Coronavirus
UV Purification Statement by FreshAire UV